Services
Automation and mechanization of production offer many benefits to the manufacturers and producers resulting
in higher efficiency, important cost reduction and reduces the needs of human resources.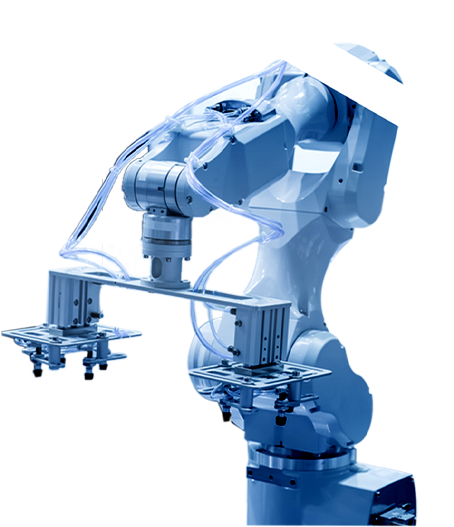 Automation 
Custom made production of machines and equipment is designed and manufactured
according to the individual requirements of the customer. We design technology for you
to meet the required parameters for the manufacturing, assembly and quality of your product.  Our demonstrated experience from real projects and know-how guarantee that our specialized technological equipment completely meets your expectations.
Unique concept and design
From simple product assembly to large automated technological units
Applications in non-traditional fields
Applications of special technologies
R&D projects and prototype equipment
Advanced/intelligent assembly lines
Click and see fields of automation
Special-purpose machines
To the programme of the company KSB belongs development, production and delivery of special-purpose machines and equipment. Involved are not standardly produced machines and therefore they are "made to order" according to the technical order of a customer. Our special purpose machines operate in various industry – engineering, defence, pharmaceutical, food, automotive, electrotechnical etc.
Automatic control system
An important part of the KSB company is development, production and delivery of automatic control systems and testing machines. These machines use modern and creative principles and technologies to ensure the best results and benefits for the customer. These control systems are delivered mainly for the engineering industries, defence production or automotive.
Robotized workplaces
Another important part of the production programme of the KSB company is delivery, installation and utilization of robots and robotic systems. Robots can be utilized in any production process and industry area.
Automatic assembly lines
The essential programme of the KSB company is development, production and delivery of automatic lines, automatic assembly and testing machines and mechanical and robotic assembly workstations. These solutions use the technology of parts orientation, feeding, pressing, screwing, dosing, gluing, welding, measuring, camera visualization etc. These automatic assembly lines are delivered mainly delivered for customers in automotive, defence or engineering industry.
Complex production lines
KSB provides an in-house, end-to-end, service from design and construction through to final assembly according to customer 's requirement and options.
We design and manufacture equipment that is technologically and spatially adapted to the client's environment.
Special projects
One of the main capabilities of our company KSB is the experience and knowledge in design a development of the special machinery and production lines intended for the use in explosive environment production, where the explosive atmosphere is contains gases, vapours or dusts.
The design and construction of such an equipment should be in accordance with the operating parameters and ensure a very high level of protection (according the directives of the local government, European Union or different state authorities).
The machinery and equipment developed for the explosive environment production is mainly used by chemical, mining or defence industry as well as automotive industries. Our machines are intended for the production of airbags and seatbelts pyrotechnical units, detonators for mining and demolition works, production and disposal of ammunition.
Click and see special projects
Ammunition production lines and machinery
Complete production lines of small, medium and large calibre ammunition
Automation of standard production processes
Machines and assembly lines for production of ammunition components:

Fuses, primer screws, igniters, detonators, time delay unit for fuses, etc.
Visual control and mechanical measuring systems automation
Automatic machines for marking, stamping and packing
Automatic explosives weighing and feeding systems
Various unique turnkey solution

Pressing of thermobaric explosive
Welding in explosive environment
Riveting in explosive environment (reactive armour)
Machines for production in explosive environment
Machines for production of the pyrotechnical Initiators for critical automobile safety systems components (airbags, seatbelts and other protection mechanism)
Machines for pressing explosive and pyrotechnical composition

Boosters, ignitors, detonators, time delay units, etc.

Automated quality control systems including state-of-the-art visual monitoring & measuring
Machinery and complete production line for pyrotechnics and fireworks
Ultrasound welding, riveting in ex. Environment
Support
We offer to our partners modern, creative and flexible solutions,  supported
by experienced team of specialists.  Our references of successfully realized projects  come
from various fields of industry.
Click and see provided services
Consultancy and advisory
It is always critical and most important to understand the goals and expectations of our customers. We are ready to offer our years of experience and gained knowledge to support the right decisions.
Project management and realization
Identifying and understanding customer needs – based on communication with the customer, we define:

subject of production, including specific requirements for dimensions and material and other specific product details
environment, layout and area of machine placement

Suggestion of solution – based on the analysis, our engineers propose and design a suitable production automation solution

determining dimensions of the machine
calculating efficiency – time and cost savings
commercial and technical offer

Design and engineering – after proposal approval

Engineering work
3D model creating
Technical documentation
List of material etc.

Production

Production and assembly of the machines and equipment
Commissioning at customer facility
Delivery to customer place
Installation and pilot start-up
Training of production personnel and maintenance staff

Maintenance of equipment
Spare parts deliveries and after sales support
Upgrades and modernization of machines & equipment
Aftersales support
KSB provides to its customers and partners a long-term support after delivery of the product by:
Online support and technical team response
Warranty and after-warranty service
Standard and preventative maintenance
Delivery of spare parts and components
Repairs & overhaul
Modernization and modification of current equipment
Modernization and repair
Modernization, modification and overhaul of current equipment

Standard and preventative maintenance and repairs